Our third day in Hong Kong was the most awaited by all our business partners especially those who had never travelled abroad.
After delicious breakfast at the hotel, we made our way to the Hong Kong Disneyland at 9.45am, reaching the destination approximately half an hour later. The day was even more special as our great leader CDM Siti Rohana & CDM Azlan had chosen to join our B5 coach. We were so honoured that we literally took pictures with them every chance we had.
Eventhough this was my 4th time to Disneyland, (first & second in Eurodisney, Paris & third time in Tokyo), the inner child in me still scream with joy & jump with delight as we approach the main entrance to the park.
We planned our time as much as we can as we only had 6 hours to enjoy Disneyland. Our first stop was The Small World. It had small boats that took us "around the world" with pretty dolls in traditional dresses danced & spinned for us.
Second stop was The Space Mountain rollercoaster (my hubby & sister-in-law had kindly taken the Fast Pass prior). Rather small compared to the ones in the other two Disneyland I've been, but not less thrilling & exciting!
We had a lunch break at the Royal Banquet Hall & offered our Zuhr/Asr prayers before we set foot again to experience the Buzz Lightyear Game.
Our last stop was the Adventureland where we went on a cruise with a "wild, wild west" theme.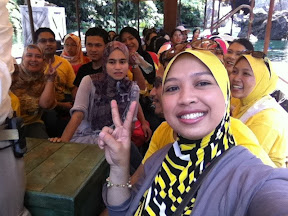 We spent a good half hour to shop for souvenirs & later on? The Parade!!!! We literally danced with the Disney Characters & had a blast!!!!
After Disneyland, we made a stop at the Citygate Outlet Shopping complex for more shopping. The goods were at good prices but unfortunately the Armani Exchange Jeans that I wanted so badly, didn't come in my size.. Huh! I guess size 12 is jumbo size in Hong Kong!! Uurgghhh....
We wrapped up the day with more last minute shopping in the Lady's Market (yes..again!) as we're leaving the next morning.
We even manage to grab a bite of Turkish kebab in Hong Kong, before we went straight to our 5 star hotel bedrooms...
- Posted using BlogPress from my iPhone